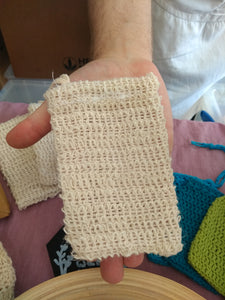 Completely natural and plastic free this little pouch is made from one of the world's important natural fibres, sisal. These little bags of wonder help prolong the life of your soap by keeping the bar dry between uses.

Not only does it make a great home for your soap but when used for washing the combination of the soap and the bag creates a gorgeous lather and gently exfoliates leaving your skin feeling shiny and fresh. 
Not only does it provide a cosy home for your soap bar but it also keeps all those annoying little soap scraps together when your bar is nearly finished, enabling you to use every last bit.
When you are finished washing, simply hang it to dry.
Care of you soap saver:
If you would like to wash your soap saver we would advise the following:
Handwash in warm soapy water. Use washing powder without enzymes. Dry flat.
18g ℮