6 Easy Ways to Embrace Sustainable Gift Wrapping this Christmas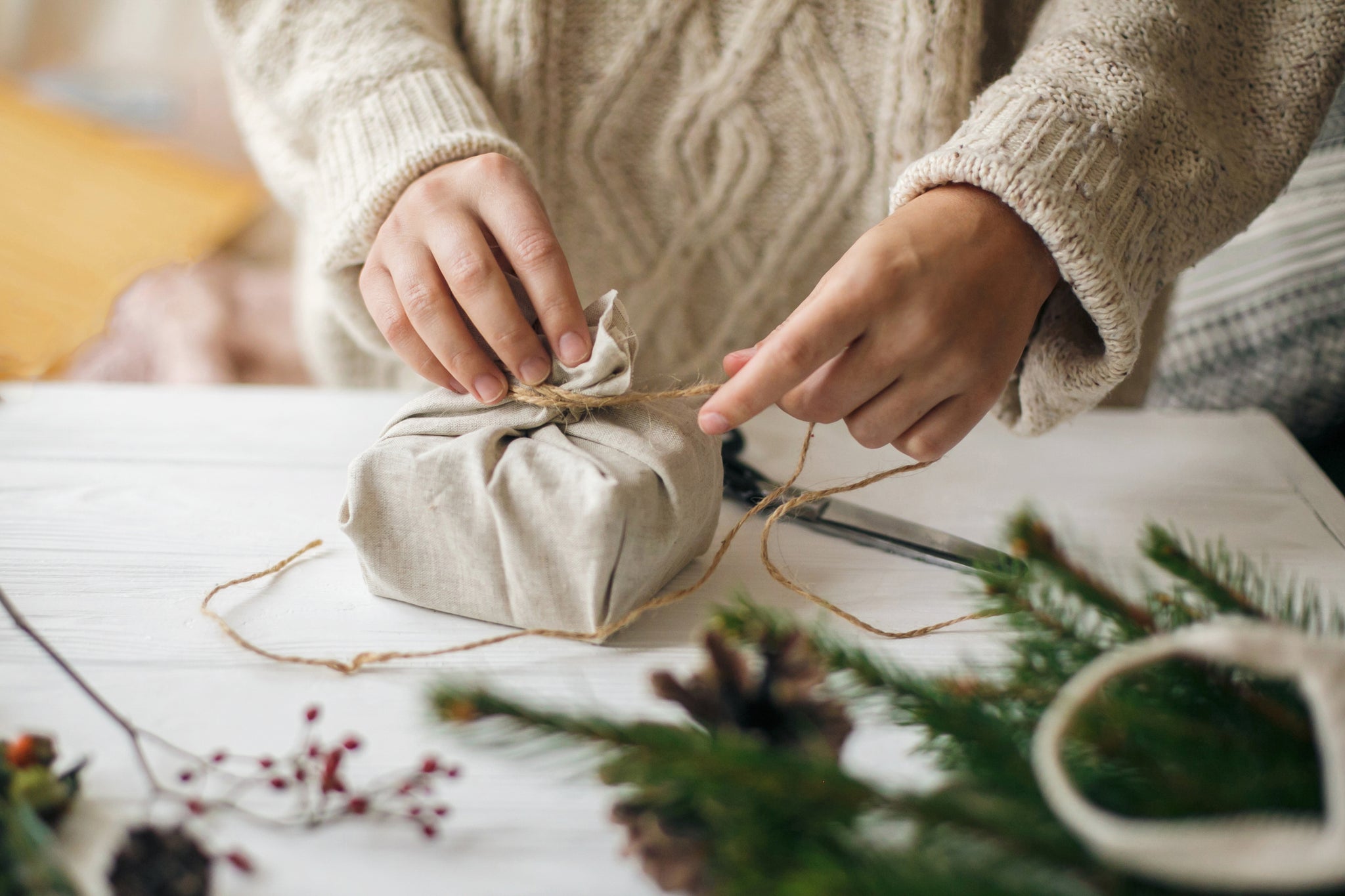 It's likely that the majority of us will be surrounded by a mound of wrapping paper waste on Christmas Day. In fact, it has been estimated that a colossal 114,000 tonnes of plastic waste ends up in landfill each year. 
As advocates of the plastic-free life at Bee Clean Soaps, we found this statistic fascinating and saddening. Now you might be thinking that gift wrapping doesn't contribute to plastic waste, that's it's just paper that can be dropped in the recycling bin and never thought of again. 
But the truth is that most of our favourite gift-wrapping designs are coated in glitters, foils, and other non-recyclable materials, and the rolls themselves tend to be wrapped in a non-recyclable plastic film. We also like to bind wrapping paper using plastic based sticky tape that renders the paper un-recyclable if it is left attached.
But don't let this news dim your spirit, because there are plenty of holly-jolly ways to wrap presents sustainably.
1. Use Eco-Friendly Replacements  
There are so many amazing ways that you can substitute non-recyclable wrapping paper for plastic-free and biodegradable options. Companies such as Re-Wrapped have a gorgeous range of pattern choices that embrace the festive spirit and won't interrupt your usual routine wrapping technique. 
This method also doesn't take away from the fun of watching your loved ones unwrap their gifts on Christmas Day. 
For bonus points, look for brands that also make their wrapping paper out of recycled materials, as this will further reduce the impact of paper pollution.
For triple bonus points and a personal touch, consider using plantable gift tags in place of shiny ones. Not only will this reduce waste, but it will also help pollinators feel welcomed into the gardens of your nearest and dearest. We love the Plantable Seed Paper Gift Tags from the National Trust. 
2. Reuse Packaging
Recycling packaging from recent deliveries such as cardboard boxes is an excellent way of utilising materials that would otherwise end up in the bin. Smaller boxes in particular, that are designed with thicker cardboard, can be used to wrap delicate items as they will protect them from damage.
Kraft boxes are another superb way to utilise packaging as they can be reused as storage after Christmas by the lucky present receiver. You could also wrap up the boxes in old newspaper or magazine pages to replicate the feeling of tearing open the gifts.
3. Cloth Wrapping
Wrapping your presents in fabric might seem like a slightly more expensive approach to delivering them, but the results could certainly be worth it. This will not only show your eagerness to help the environment, but also give your gifts a traditional, luxury appearance.
Some of the earliest examples of gift-wrapping stem from the practice of using cloth to protect religious objects from damage. The traditional Japanese art of Furoshiki, for example, can be dated back centuries, and is still used across the globe today.
For easy step by step guides on how to wrap using fabric, take a look at the guide from The Fabric Wrapping Co who have a truly wonderful range of wine gift bags, vintage scarves and Christmas Furoshiki options.
You can decorate with reusable ribbons or even sprigs of holly and pine to add a beautiful, sustainable finishing touch. 
Give the gift of a plastic-free planet this Christmas with luxury, sustainable soap bars that are handmade with nature in mind. 
4. Reuse Wrapping Paper
Hold on to gift wrap from the presents you receive this year and use it to wrap up your presents next year. You could even keep hold of wrapping paper from birthdays to really make the most out of what you've already got. 
Some brands are now producing wrapping paper that is specifically designed to be reusable. This may include fabric options – as mentioned above – but also encompasses paper with greater durability. 
Wrapping your presents in reusable materials can also open up conversations about sustainability, because it gives you the opportunity to suggest reusing them to your loved ones.
5. Be Sellotape Sensible
When it comes to being un-recyclable, Sellotape is an obnoxious offender.
Try, this Christmas, to wrap your presents using recyclable or biodegradable tape rather than plastic tapes as this will have a huge influence on the amount of waste ending up in landfill. Or, to avoid using tape altogether, wrap your gifts with string.
When disposing of wrapping paper, be sure to remove the Sellotape and ribbons before putting it in the recycling bin. This is because plastic Sellotape cannot be recycled, and your paper is not likely to end up at a recycling plant if it has non-recyclable materials attached - fiddly, but worth it.
6. Avoid Wrapping Presents Altogether
Although there is a joy to wrapping presents, it is not a necessity. Paper production is an environmentally costly process, and yet it is frighteningly difficult to find information on how gift wrapping impacts the devastating growth of deforestation. We do know, however, that it takes 10 litres of water to make 1 sheet of A4 paper.
But there are so many ways to spread joy this Christmas without the need to wrap presents at all. To still invoke the element of surprise, consider putting all of your presents in one large bag and become Santa Claus for the day. This will add a personal one-to-one interaction to the giving process. Attach your plantable tags to your gifts, and away you go.
Another option would be to give gifts that don't need wrapping. For example, by donating money to wildlife and planet saving projects, you can show your love for your relatives by demonstrating your love for our planet.
There is no better gift than ensuring the future of our home.  
If you've been inspired to champion sustainable gift giving this Christmas, then why not take a peek at our Gift Shop at Bee Clean Soaps to find our range of all natural soap collections - perfect for those in your life who appreciate a bit of luxury in their bathroom. 
If that wasn't enough, all of our natural honey soap bars, shaving soaps, novelty soap and Pick & Mix bars will arrive at your door in plastic-free packaging, free from any nasties. 
This is our Christmas gift to you.