Indulgent But Sustainable; Soaking Baths Sipping Tea.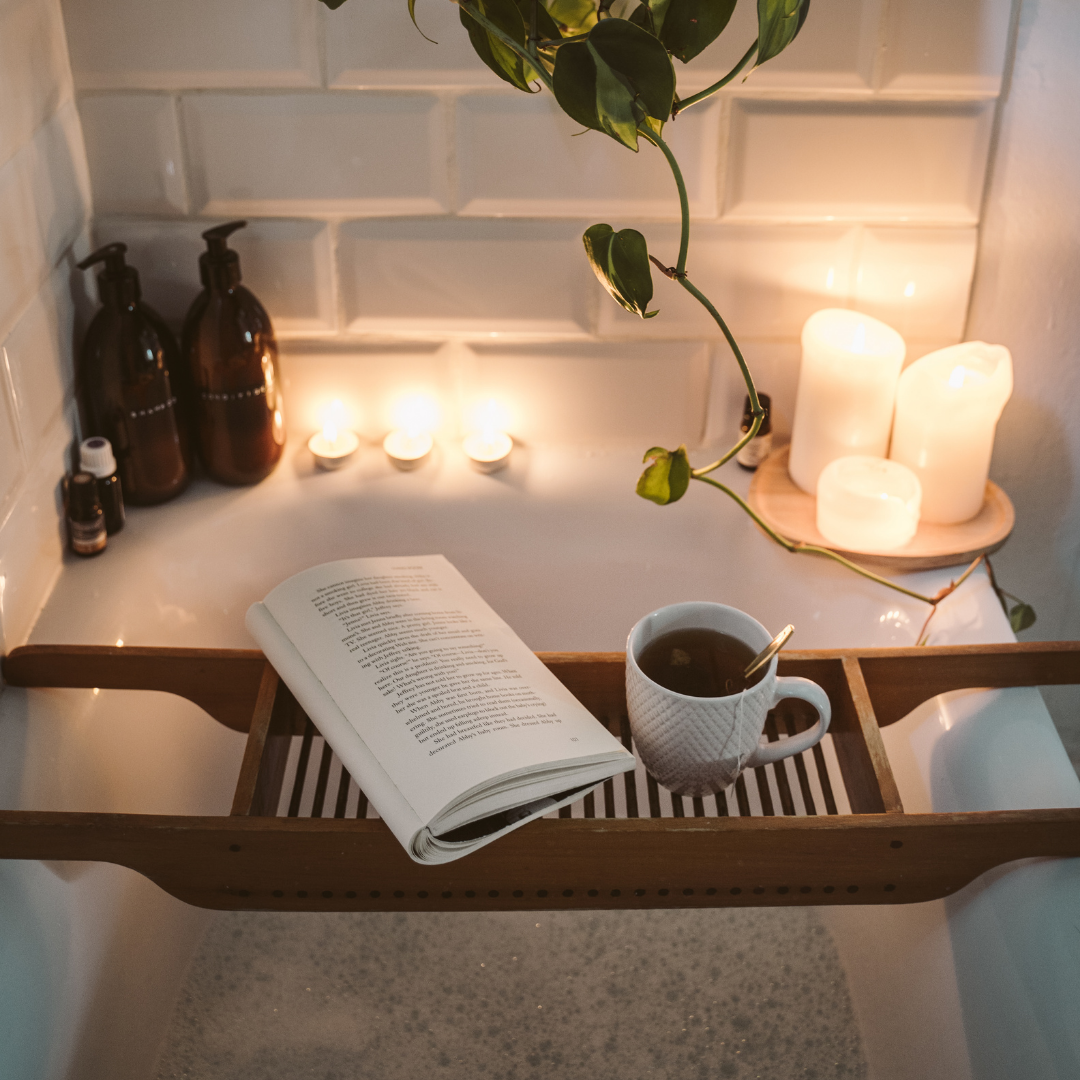 In preparation for Spring and Easter time, we decided to try some loose leaf teas to match up tastes to our newly reintroduced bath salts. As spring creeps in, or bursts in on the wind and rain! I find that lovely relaxing soak in the bath with a cup of natural tea is the bees knees. As the wind drops speed, the flood plains recede, the air warms up, and the Easter goodies appear on our shelves, I like to switch to the hot tub in the garden, open and fresh, smelling the scents of spring.
Lots of the loose tea community like to drink floral teas in Spring, matching the growing of daffodils, daisies, dandelions and all the other spring flowers round and about. So some of us gathered together; Christine, Emma, Tom and I to smell soap and bath salts and of course taste tea. We found out that we certainly have a very varied palette between us.
One of my favourite tea blenders is right here in Yorkshire! They are called Hebden Tea and their shop is on the beautiful street in York called The Shambles. I could imagine hobbits or young wizards tumbling down this street in search of their food and beer, magical. Emma sells some of their delightful blends in her Refillit shop, so they were an obvious first choice. It was a hard task, but I managed to slim down the choice of hundreds of teas from their website to a mere 11.
Here is what we found:
To go with our Geranium Rose & Lavender Bath Salts, some of our soap bars that come to mind are our Geranium Rose, Honey Blush, Honey & Lavender and Lavender & Oatmeal. We tried four teas for this selection.
Luna Lavender Dreamcatcher
Luna Lavendar Dreamcatcher is described as a complex blend; it contains lavender and rose petals among others. We all liked this tea – is poured out as a vivid blue colour then settled into a lighter green. Christine was not impressed by the smell but agreed it tasted better. The rest of us thought it was dreamy and refreshing. An ideal one to sip in the bath.
Hebden Sencha Rose
Hebden Sencha Rose is a green tea with rosebuds. I am afraid I was not keen, however, Christine could imagine relaxing in a warm bath with it.
French Lavender

 and 

Earl Grey Lavender
French Lavender and Earl Grey Lavender are simple teas, I was hoping to like the earl grey one because I normally adore Earl grey, however, the lavender did not agree with any of us – to smell it is amazing, but to drink it was not good! Perhaps we are around lavender soap so much that that is what we can taste?
My idea for the Peppermint & Eucalyptus Bath Salts would be to help clear my lungs and tubes from winter colds and then springtime hay fever symptoms. Peppermint Tea is said to be very relaxing and we all agreed. I would pair these bath salts with our Honey & Peppermint Tea soap bars as well as Tea Tree & Charcoal to keep the lung clearing qualities.
Chocolate & Mint
The Chocolate & Mint flavoured black tea was really fun! If you like mint chocolate this is a good one for you to try. Christine could imagine it would help get that chocolate fix when you are watching what you eat. Imagine relaxing in the bath with luxurious essential oils and salts nibbling mints and sipping your tea… absolutely delightful.
Sencha Apple & Mint
We found Sencha Apple & Mint quite strong and zingy on the apple flavour, it went well with our soap choices. I thought it would be a great one for relaxing in the garden later in the year. Midnight Meadow Dreamcatcher got thumbs up all around for being a refreshing, sweet minty sensation.
Our Lemon & Rosemary Bath Salts would be teamed with the Lemon & Poppyseed soap. Both are refreshing and smell so very clean. So to compliment this, we chose rather obviously the teas with lemon in them.
Mango & Lemon Green Tea
Mango & Lemon Green Tea was found to be unanimously the best of this set, it was gentle and had a strong mango flavour from the big pieces that stewed happily in the water.
Lemon Meringue
Lemon Meringue grew on Tom, two of us preferred the taste to the smell but it reminded us a little too much of soap on the first smell.
Lemon Fruit Infusion
Lemon Fruit Infusion had a lovely colour and was quite dry lemony. I preferred it cold from the fridge.
Rooibos Ginger & Lemon
Rooibos Ginger & Lemon was another definite thumbs up all round with drinking it after the last few fruit teas, and it has a 'proper' tea smell.
To sum up:
So, if I had to reduce the 12 choices down to a few I would go with rooibos ginger and lemon to go with the lemon and rosemary bath salts, Chocolate and mint for an indulgent soak in the peppermint and eucalyptus salts; and luna lavender dreamcatcher for a relax and soak evening in geranium rose and lavender. Let us know what you would choose!
As we come up to the Easter and Spring celebrations of rebirth, new birth, and all the different traditions we have surrounding this time, remember to enjoy some long soak baths with essential oil bath salts, natural soaps and fabulous loose teas happy in the knowledge that you are enjoying luxury in a sustainable way. Create an encapsulating depth of experience… smell, taste and touch.
As a little side note, whilst researching on the internet, I came across a delightful blog about teas – and as I am attempting to read The Silmarillion once again – this one just grabbed my eye.
Emmas Refillit shop in Selby, North Yorkshire, also website shop - https://refill-it.net/
Hebden teas – shop on The Shambles in York and also on the website - https://www.hebdentea.com/