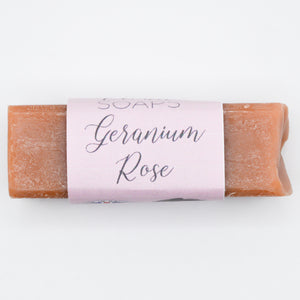 Our Geranium Rose Soap Bar will keep your bathroom smelling floral all day.
This natural soap bar is a simpler form of our beautiful Honey Blush bar for skin that prefers a less complicated soap. It is likewise scented with a blend of geranium rose, ylang ylang and organic lavender essential oils for a lovely floral fragrance that lasts. Suitable for the body, face, and hands, this delicate blend of ethically sourced shea butter and Yorkshire honey works to condition and lock moisture into dry, sensitive skin.
Bee kind to your skin by trusting this sweet-scented soap bar.
All of our Natural Honey Soaps are made with real Yorkshire honey to encourage a bubbly lather whilst also locking moisture into the skin to leave your body feeling healthy and refreshed.
Part of our bee-autifully British soap range, each ingredient in this natural handmade soap bar has been carefully selected for our products from British suppliers in our efforts to support local businesses and reduce our carbon footprint.
Ingredients: coconut oil, shea butter, rapeseed oil, glycerol, water, French pink clay, Himalayan pink salt, geranium rose essential oil, lavender essential oil, honey, ylang ylang essential oil, rose petals, lavender buds.