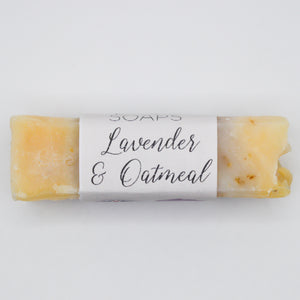 The powers of both our Honey and Oatmeal Soap, and Lavender and Honey Soap combined.
Our Lavender and Oatmeal soap is a luxury you can't afford to miss. Enriched with lavender oil, this floral-scented soap bar is a natural relaxant for both the body and mind. Use in the morning to soap your morning troubles away, or in the evening to aid your night's sleep. Ground oatmeal acts as a natural exfoliant for even the most sensitive, scrubbing away dead skin cells for a deeper clean.
Start your day right with this natural handmade soap bar.
All of our Natural Honey Soaps are made with real Yorkshire honey to encourage a bubbly lather whilst also locking moisture into the skin to leave your body feeling healthy and refreshed.
Part of our bee-autifully British soap range, each ingredient in this natural handmade soap bar has been carefully selected for our products from British suppliers in our efforts to support local businesses and reduce our carbon footprint.
Ingredients: sodium lardate, rapeseed oil, glycerol, water, honey, lavender oil, oatmeal.