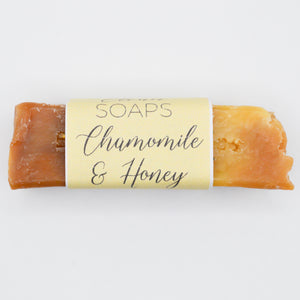 Gently soothe your skin with our Chamomile and Honey Soap Bar.
This creamy soap bar is infused with Chamomile sourced from Hampshire to produce a soap which is gentle but nourishing to sensitive skin. Scented with a blend of organic lavender and chamomile essential oils, it leaves you feeling calmed and relaxed.
In Egypt, chamomile is considered sacred to the sun God, Ra, which could explain the natural anti-inflammatory and antibacterial properties, common with treating sunburn, that make it such a soothing ingredient to use in our soap. Chamomile is widely regarded for its ability to calm temperament, but it has also historically been used medicinally to calm skin conditions such as nappy rash and chicken pox. Additionally, chamomile contains polyphenols that help strengthen delicate skin to protect it from the harsh effects of air-pollution. This is why it makes perfect sense for chamomile soap to play a crucial part in anybody's daily skincare routine.
Why argue with science? Get this in your cupboard now.
All of our Natural Honey Soaps are made with real Yorkshire honey to encourage a bubbly lather whilst also locking moisture into the skin to leave your body feeling healthy and refreshed.
Part of our bee-autifully British soap range, each ingredient in this natural handmade soap bar has been carefully selected for our products from British suppliers in our efforts to support local businesses and reduce our carbon footprint.
Ingredients: sodium lardate, rapeseed oil, lye, glycerol, water, honey, chamomile oil, chamomile flower, lavender oil.