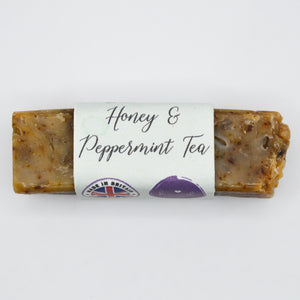 Peppermint soap. Natural handmade soap infused with British peppermint and enriched with Yorkshire Honey. A creamy and nourishing soap bar to awaken body and mind.
Part of our Beeuitfully British range, each ingredient in this soap bar has been carefully selected from British suppliers in our efforts to support local businesses and reduce the distance our ingredients travel.

This mild and creamy soap bar is enriched with Yorkshire Honey and infused with peppermint tea and ground peppermint leaves to produce a soap which is gentle and nourishing to the skin. Scented with a blend of peppermint and lavender essential oils to calm and awaken your senses.

Soap benefits:

Honey is a a humectant and helps contribute a more bubbly lather whilst locking in moisture to the skin.

Peppermint is refreshing and reputedly cools skin inflammation.

These soap bars are made traditionally using hot process soap method and are produced in small batches. Colours may vary.
Packaged in a kraft brown gift box.
Ingredients: Sodium lardate (Lard), Sodium Rapeseedate (Rapeseed Oil), Glycerin (Byproduct), Aqua (Water), Mel (Honey), Mentha Piperita Oil (Peppermint Oil), Mentha Piperita Leaves (Peppermint tea leaves), Lavandula Angustifolia oil (Organic Lavender Essential Oil).
Allergens: Limonene, Linalool 

Not suitable for vegetarians. Please note may contain traces of milk oats or nuts.