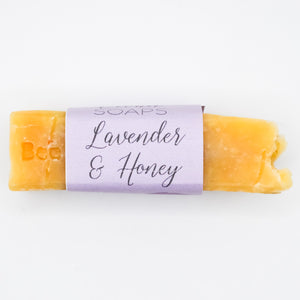 Calm your body and mind with our Lavender and Honey Soap Bar.
It is said that stress can have an adverse effect on the skin leaving it feeling dull and rough. That is why our lavender-scented soap is the perfect partner to soothe those morning troubles. After all, a healthy body and a healthy mind walk hand-in-hand these days. Or, if you're the sort of person who prefers an evening bath, the relaxing aromas of lavender can work as a natural sleep aid. Lavender's benefits also exist outside of its scent. This antioxidant wipes away bacteria from the skin, as well as aiding skin cell regeneration for a healthy, youthful glow. The infusion of water-soaked lavender can also act to soothe the symptoms of eczema and inflammation.
To start or end the day, soap your troubles away.
All of our Natural Honey Soaps are made with real Yorkshire honey to encourage a bubbly lather whilst also locking moisture into the skin to leave your body feeling healthy and refreshed.
Part of our bee-autifully British soap range, each ingredient in this natural handmade soap bar has been carefully selected for our products from British suppliers in our efforts to support local businesses and reduce our carbon footprint.
Ingredients: sodium lardate, rapeseed oil, glycerol, water, honey, lavender oil, lavender flowers.